Doctor Who DVD Files Issue 90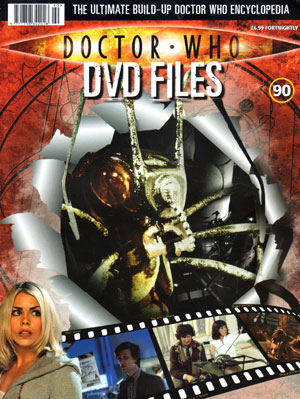 Doctor Who DVD Files Issue 90
This 90th edition of The DVD Files contains the classic story The Ark in Space.
Available every fortnight, the magazine builds up into the ultimate Doctor Who Encyclopaedia."Doctor Who DVD Files is something unique – it's not just a chance to collect every episode of the series since the Doctor's return, the pull-apart magazine is incredibly ambitious.
Every fortnight you get pages packed with information and specially commissioned artwork.
It is currently planned to extend the DVD files to at least 110 issues.
In this issue…
THE ARK IN SPACE
The future of the human race is threatened by the Wirrn.
DR RENFREW
Meet this confused servant of the Silents.
NERVA BEACON
Explore this ill-fated space station from the future

TITAN
Visit the Earth base on Jupiter's moon.
IANTO JONES
What happened to this brave Torchwood agent?


SHAPE SHIFTERS
A guide to creatures who are not what they seem.
MATT SMITH
Our profile of the actor behind the Eleventh Doctor.

ALZARIUS
Discover the secret of the Terradonians'
ROSE TYLER: TOP MOMENTS
Relive the adventures of the Ninth and Tenth Doctors' best friend
For more information and how to subscribe go to the DVD Files website Here.
To order individual back issues click Here