Doctor Who DVD Files Issue 89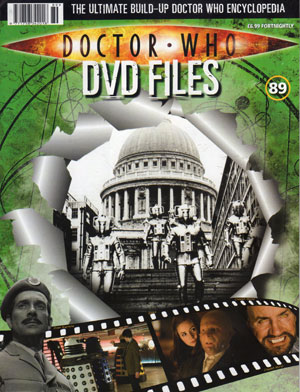 Doctor Who DVD Files Issue 89
This 89th edition of The DVD Files contains the classic story The Invasion episodes 5-8
Available every fortnight, the magazine builds up into the ultimate Doctor Who Encyclopaedia."Doctor Who DVD Files is something unique – it's not just a chance to collect every episode of the series since the Doctor's return, the pull-apart magazine is incredibly ambitious.
Every fortnight you get pages packed with information and specially commissioned artwork.
It is currently planned to extend the DVD files to at least 110 issues.
In this issue…
THE INVASION
The Cybermen are on the march in part two of this adventure.
DOCTOR WHO?
What is the question that must never be asked?
MELODY POND
Before River Song there was the Doctor's'bespoke psychopatl
CYBER TECHNOLOGY
What are the top five Cyber inventions?
GIBBIS
Meet this cowardly native of the planet Tivoli.
SUPREME DALEK
Read all about the leader of the New Dalek Paradigm


WORLD BUILDING!
Check out the amazing sets of A Christmas Carol'.

EARTH DEATH
Our history of the world comes to an end…
For more information and how to subscribe go to the DVD Files website Here.
To order individual back issues click Here