Doctor Who DVD Files Issue 88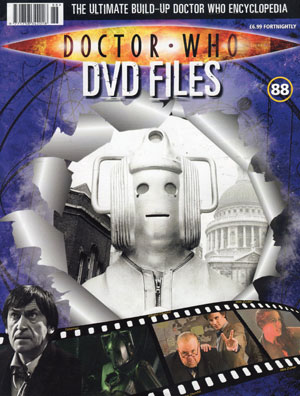 Doctor Who DVD Files Issue 88
This 88th edition of The DVD Files contains the classic story The Invasion episodes 1-4
Available every fortnight, the magazine builds up into the ultimate Doctor Who Encyclopaedia."Doctor Who DVD Files is something unique – it's not just a chance to collect every episode of the series since the Doctor's return, the pull-apart magazine is incredibly ambitious.
Every fortnight you get pages packed with information and specially commissioned artwork.
It is currently planned to extend the DVD files to at least 110 issues.
In this issue…
THE INVASION
The Second Doctor takes on the Cybermen.
MELS ZUCKER
Meet the earlier incarnation of a familiar face.
CLOCKWORK ROBOTS
Unmask the SS Madame de Pompadour's mechanical men.
EMPEROR CHURCHILL
The British prime minister as you've never seen him before…
CYBERMEN
Something wicked lurked beneath Colchester…
WIPED FROM HISTORY?
Find out about the missing episodes of Doctor Who.

EARTH EMPIRES
Discover the future history of humanity.
GANGER DOCTOR
When one Eleventh Doctor just isn't enough…

LAKERTYA
The Rani thought this grim planet would make the perfect lab.
For more information and how to subscribe go to the DVD Files website Here.
To order individual back issues click Here