Doctor Who DVD Files Issue 86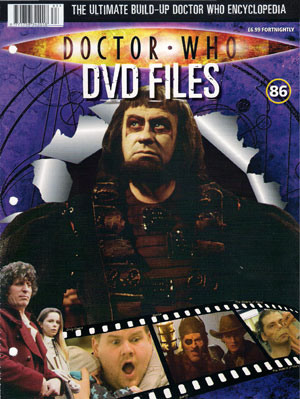 Doctor Who DVD Files Issue 86
This 86th edition of The DVD Files contains the classic story State Of Decay.
Available every fortnight, the magazine builds up into the ultimate Doctor Who Encyclopaedia."Doctor Who DVD Files is something unique – it's not just a chance to collect every episode of the series since the Doctor's return, the pull-apart magazine is incredibly ambitious.
Every fortnight you get pages packed with information and specially commissioned artwork.
It is currently planned to extend the DVD files to at least 110 issues.
In this issue…
STATE OF DECAY
The Fourth Doctor take on a trio of vampire lords.
GANTOK
Dare you challenge this fiend to a game of Live Chess?
ROBOFORMS
Beware of alien robot mercenaries bearing Christmas gifts
CRAIG OWENS
Meet the Eleventh Doctor's reluctant landlord.
AMY POND: THE MARRIED YEARS
There was no settling down for 'Mrs Rory Williams'…
MARS ATTACKS!
Find out how the Flood managed to look so scary.

DALEK INVASIONS
The invaders from Mars turn their eye stalks towards Earth…

SARN
The Master meets a grisly fate on the 'Planet of Fire' .
For more information and how to subscribe go to the DVD Files website Here.
To order individual back issues click Here