Doctor Who DVD Files Issue 85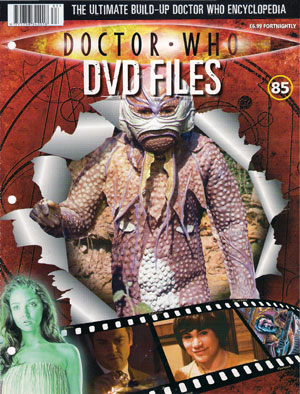 Doctor Who DVD Files Issue 85
This 85th edition of The DVD Files contains the classic story Full Circle.
Available every fortnight, the magazine builds up into the ultimate Doctor Who Encyclopaedia."Doctor Who DVD Files is something unique – it's not just a chance to collect every episode of the series since the Doctor's return, the pull-apart magazine is incredibly ambitious.
Every fortnight you get pages packed with information and specially commissioned artwork.
It is currently planned to extend the DVD files to at least 110 issues.
In this issue…
FULL CIRCLE
The Fourth Doctor meets Adric on the planet of Alzarius.
SIREN
Will this demon wipe out the crew of the good ship Fancy?
TIME LORDS
Meet the Gallifreyans who were rotten to the core.

THOROS BETA
This gaudy world was home to the Mentors… and worse!


SPACE PIONEERS
The present becomes the future in the Doctor's world.
CANTON DELAWARE
This ex-CIA agent helped the Doctor in the States.
SCALE MODEL!
Find out how the new Silurians evolved…

SONIC SCREWDRIVER
Check out our toolbox of sonic devices.
For more information and how to subscribe go to the DVD Files website Here.
To order individual back issues click Here