Doctor Who DVD Files Issue 84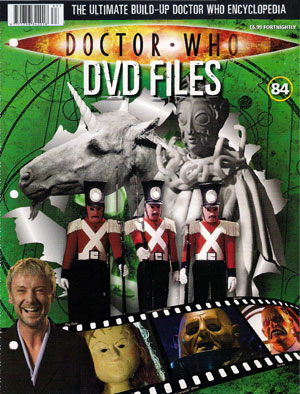 Doctor Who DVD Files Issue 84
This 84th edition of The DVD Files contains the classic story The Mind Robber.
Available every fortnight, the magazine builds up into the ultimate Doctor Who Encyclopaedia."Doctor Who DVD Files is something unique – it's not just a chance to collect every episode of the series since the Doctor's return, the pull-apart magazine is incredibly ambitious.
Every fortnight you get pages packed with information and specially commissioned artwork.
It is currently planned to extend the DVD files to at least 110 issues.
In this issue…
SILENT ASSASSIN
The Eleventh Doctor makes a startling discovery.

STRANDED ON EARTH
Daleks, Cybermen and many others found themselves shipwreked.
THE MIND ROBBER
The Second Doctor and his friends are trapped in the Land of Fiction.
PEG DOLLS
These terrifying creatures were once human…
THE MASTER RACE
If you thought one Master was bad enough…
SMILER
Find out about the inner workings of Starship UK's Smilers.
COMMANDER STRAX
Meet the Sontaran nurse who helped the Doctor.
DRAMATIC EXIT
Read our exclusive interview with actor Matthew Waterhouse.

CHANGING HISTORY
The Eleventh Doctor's adventures on Earth begin.

LAND OF FICTION
Visit a world of make-believe, where monsters of myth are real.
RICHARD NIXON
The US president nicknamed tricky dickey had a secret
MADAME KOVARIAN
This fiendishly clever woman was determined to stop The Doctor
For more information and how to subscribe go to the DVD Files website Here.
To order individual back issues click Here