Doctor Who DVD Files Issue 83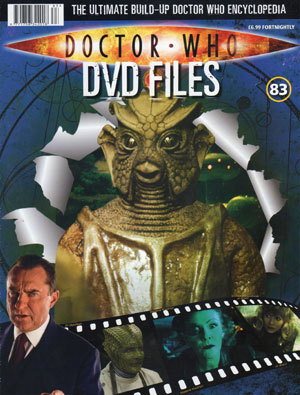 Doctor Who DVD Files Issue 83
This 83rd edition of The DVD Files contains the classic Warriors of the Deep.
Available every fortnight, the magazine builds up into the ultimate Doctor Who Encyclopaedia."Doctor Who DVD Files is something unique – it's not just a chance to collect every episode of the series since the Doctor's return, the pull-apart magazine is incredibly ambitious.
Every fortnight you get pages packed with information and specially commissioned artwork.
It is currently planned to extend the DVD files to at least 110 issues.
In this issue…
WARRIORS OF THE DEEP
Silurians and Sea Devils unite to take on the Fifth Doctor.
DOCTOR MALOHKEH
Was this Silurian scientist as creepy as he looked?
DALEK CRUCIBLE
Check out the beating heart of Davros' New Dalek Empire
JO JONES
Find out what happened to Jo Grant after she left the Doctor.
OOD DOODLES
Check out the concept art that brought the Ood to life.

CHANGING HISTORY
The Eleventh Doctor's adventures on Earth begin.

ARGOLIS
Visit the famous planet of the Leisure Hive.
RICHARD NIXON
The US president nicknamed tricky dickey had a secret
MADAME KOVARIAN
This fiendishly clever woman was determined to stop The Doctor
For more information and how to subscribe go to the DVD Files website Here.
To order individual back issues click Here