Doctor Who DVD Files Issue 81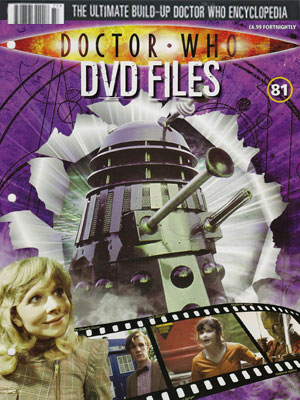 Doctor Who DVD Files Issue 81
This 81st edition of The DVD Files contains the classic story Planet of The Daleks.
Available every fortnight, the magazine builds up into the ultimate Doctor Who Encyclopaedia."Doctor Who DVD Files is something unique – it's not just a chance to collect every episode of the series since the Doctor's return, the pull-apart magazine is incredibly ambitious.
Every fortnight you get pages packed with information and specially commissioned artwork.
It is currently planned to extend the DVD files to at least 110 issues.
In this issue…
Planet of The Daleks
The Doctor and Jo are trapped in an alien jungle.


The eleventh Doctor
Everything you need to know about the madman with a box.
Ganger Jen
Jennifer Lucas' flesh avatar had a life of its own.
Dalek time travel
Discover the secrets of the Daleks' time-travel technology.
Madame Vastra
Read about the Silurian adventuress from Victorian London!
Taylor talks
Actor Peter Purves shares his memories of playing Steven.

Wanted Aliens
2008 was a year of relentless alien invasion.

Messaline
This subterranean world of warfare was not what it seemed.
For more information and how to subscribe go to the DVD Files website Here.
To order individual back issues click Here