Doctor Who DVD Files Issue 29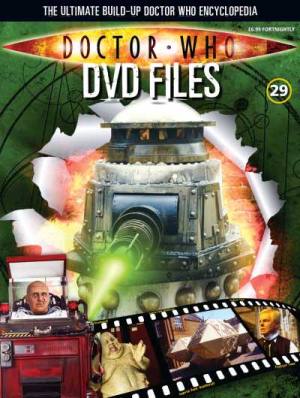 This Twenty Ninth addition of The DVD Files, contains the classic story Remembrance of the Daleks.
Available every fortnight, the magazine builds up into the ultimate Doctor Who Encyclopedia."Doctor Who DVD Files is something unique – it's not just a chance to collect every episode of the series since the Doctor's return, the pull-apart magazine is incredibly ambitious.
You get 24 pages every fortnight packed with information and specially commissioned artwork produced by the Doctor Who art department."
After The Next Doctor This series continues With several classic stories.
The magazine features new artwork showing classic moments from the show's history and specially created diagrams and cutaways.
In this issue…
'Remembrance of the Daleks'
Max Capricorn
Professor Yana
The Master Plan – Interview with script editor Andrew Cartmel
A New Era
Spearhead!
Intrusion Counter-Measures Group
Abzorbaloff
Imperial Dalek Shuttle
Don't forget to check out the DVD Files Website for two brand new wallpapers and the answers about this weeks questions.
You can also sign up to the DVD files Online archive or follow The Doctor Who DVD files on Twitter.