Doctor Who DVD Files Issue 25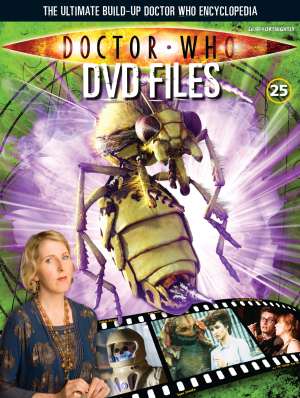 This Twenty Fifth addition of The DVD Files, includes two further stories -SILENCE IN THE LIBRARY and The THE UNICORN AND THE WASP.
Available every fortnight, the magazine builds up into the ultimate Doctor Who Encyclopedia.The series will include the very latest episodes, right up to 'The Next Doctor'."Doctor Who DVD Files is something unique – it's not just a chance to collect every episode of the series since the Doctor's return, the pull-apart magazine is incredibly ambitious.
You get 24 pages every fortnight packed with information and specially commissioned artwork produced by the Doctor Who art department."
The magazine features new artwork showing classic moments from the show's history and specially created diagrams and cutaways.
Don't forget to check out the DVD Files Website for two brand new wallpapers and the answers about this weeks questions.
You can also sign up to the DVD files Online archive or follow The Doctor Who DVD files on Twitter.
In this issue…
SILENCE IN THE LIBRARY and THE UNICORN AND THE WASP
Can the Doctor stop the advancing flesh-eating shadows?
THE BLACK GUARDIAN
The Fourth Doctor and Romana race to assemble the Key to Time.
VASHTA NERADA
Find out about the deadly shadows that inhabit spacesuits!
RIVER SONG'S SONIC SCREWDRIVER
Dig around inside the archaeologist's special tool…
AGATHA CHRISTIE
Read more about the famous 'Queen of Crime'…
TELL ME A STORY
Exclusive interview with Shaun Williams, storyboard artist.
DALEK DECEIT
The Second Doctor realises that Daleks can't be trusted…
For more information click Here or to subscribe go to the DVD Files website Here