Doctor Who B&M 2022 The Ninth Doctor Collector Set
The five new Doctor Who classic lines will be available in November 2022 at B&M stores nationwide. This Action figure Set includes:
The Ninth Doctor (As TARDIS Emergency Hologram),
The Ninth Doctor with updated head, Jacket and new deco.
Rose Tyler Action Figure V1 with updated with deco.
The Ninth Doctor was an intense and emotional incarnation. We first encounter him as the sole survivor of the Great Time War and the last of the Time Lords. As probably the most simply dressed of all his incarnations, he had close-cropped hair, workmen's boots, and an old beat-up leather jacket worn over a variety of different coloured jumpers.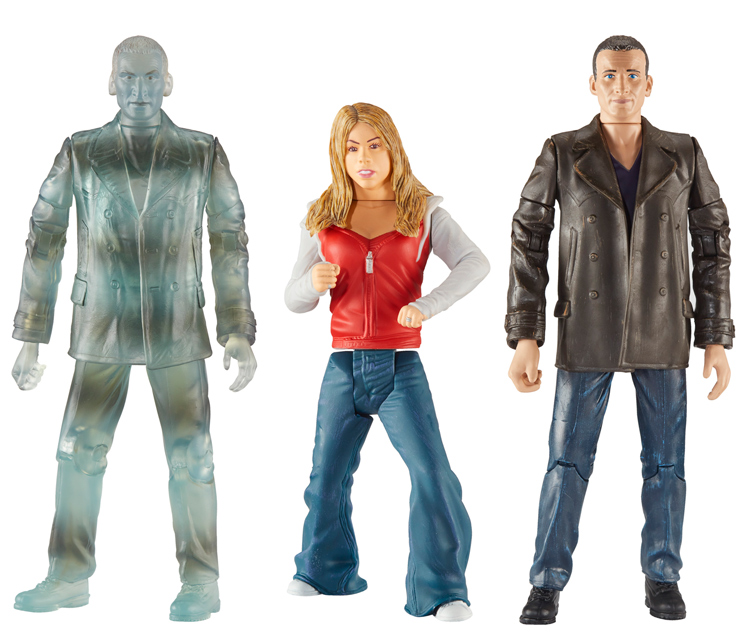 This fantastic incarnation ended shortly after the defeat of the Daleks using the power of the Time Vortex which in the process triggered his regeneration. The Ninth Doctor was accompanied by Rose Tyler, from the Powell Estate on Earth who he took on many adventures across Time and Space.
---
Speaking of this wave of releases Al Dewar, Creative Director at Character Options, said: "This range has some real gems in it, including some not so easy to spot ones. The three figure sets are very cool and there's at least one standout figure in each set, including a new Ninth Doctor with new components and an updated Rose V1. We also have a brand-new Angel variant as well as a physically new version of Yaz. Collectors will delight in looking for both variants of the Angel figure.

"With the Dalek sets – this time we have two absolute standout pieces with 'Genesis of the Daleks' and my personal favourite Dalek story 'Destiny of the Daleks'. For me it has everything and I love the look of the battered war worn Daleks. Following that and much to my own delight, is a new First Doctor figure in the form of David Bradley's Doctor paired with a very unique looking TARDIS based more on the TARDIS look in the BBC 2013 anniversary drama story which covered the creation of the TV series.
"Lastly to go hand in hand with the Dalek sets is a great special release featuring Davros and a very special Dalek … all I can say is fans will not want to miss out on that one!"