Doctor Who B&M 2022 The Creation of the Daleks Collector Set
The five new Doctor Who classic lines will be available in November 2022 at B&M stores nationwide.
The 'Special Release' set for this year is also tied to the 1975 story 'Genesis of the Daleks' and features a different Dalek prop and an iconic moment from the story.
This set includes:
'Prototype' and Leader Dalek A plus accessories
Davros (Michael Wisher) action figure.
This set is inspired by two of the most iconic moments of 'Genesis of the Daleks'. The first is when the lone 'original prototype' Mark 3 Travel Machine, later destined to be renamed as a Dalek, is being tested out in the wasteland by its creator Davros. In this scene the Dalek is furnished with its means to interact with its surroundings via its new manipulator arm and focused energy weapon.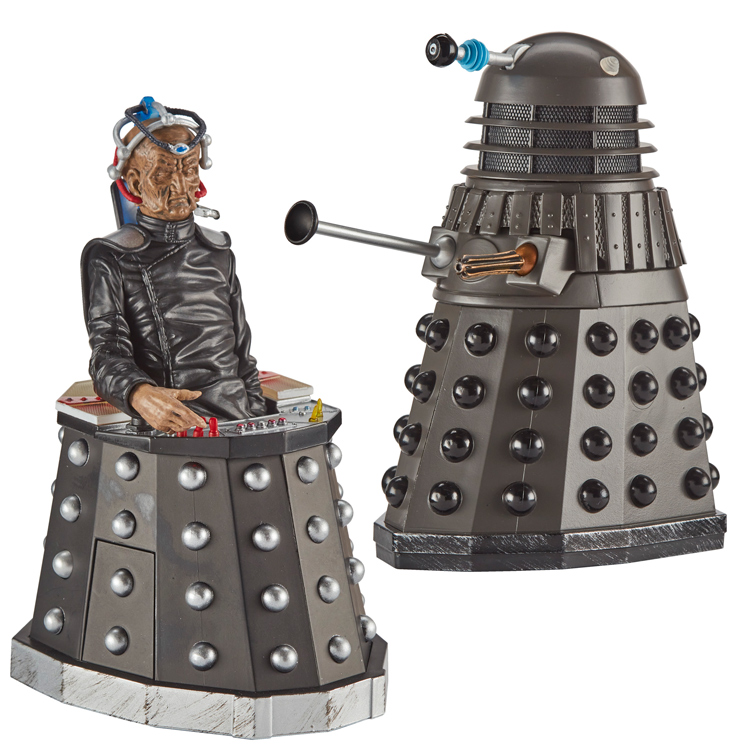 The second is when later we see a repeat of this moment in front of the Kaled Scientific Elite, when the weapon with its powerpack attached is placed into the Dalek casing. Moment later when given full autonomy to act, it decides to try and make the Fourth Doctor it very first victim.
This Dalek is easy to spot as during its time on screen it is usually the leader and sports a distinctive bronze gun arm swivel ball. Also in this set is a re-release of the Davros figure with updated paint deco and still featuring the pop open panel on his dalek style chair base.
---
Speaking of this wave of releases Al Dewar, Creative Director at Character Options, said: "This range has some real gems in it, including some not so easy to spot ones. The three figure sets are very cool and there's at least one standout figure in each set, including a new Ninth Doctor with new components and an updated Rose V1. We also have a brand-new Angel variant as well as a physically new version of Yaz. Collectors will delight in looking for both variants of the Angel figure.

"With the Dalek sets – this time we have two absolute standout pieces with 'Genesis of the Daleks' and my personal favourite Dalek story 'Destiny of the Daleks'. For me it has everything and I love the look of the battered war worn Daleks. Following that and much to my own delight, is a new First Doctor figure in the form of David Bradley's Doctor paired with a very unique looking TARDIS based more on the TARDIS look in the BBC 2013 anniversary drama story which covered the creation of the TV series.
"Lastly to go hand in hand with the Dalek sets is a great special release featuring Davros and a very special Dalek … all I can say is fans will not want to miss out on that one!"