Doctor Who B&M 2022 History of the Daleks Set 12
The five new Doctor Who classic lines will be available in November 2022 at B&M stores nationwide.
This action figure set includes:
Destiny Dalek Drone A
Destiny Dalek Drone C
These Dalek figures represent two used in this story. As part of the 17th season of Doctor Who, the BBC's Visual Effects Department found a very battered collection of Daleks at their disposal. New and old prop parts were mixed freely.
Please note the official image is of the SAME Dalek, Please see box image Below for differences in the Black paint around the mid section, ears, base,gun arm ball joint and oval.
Official Image: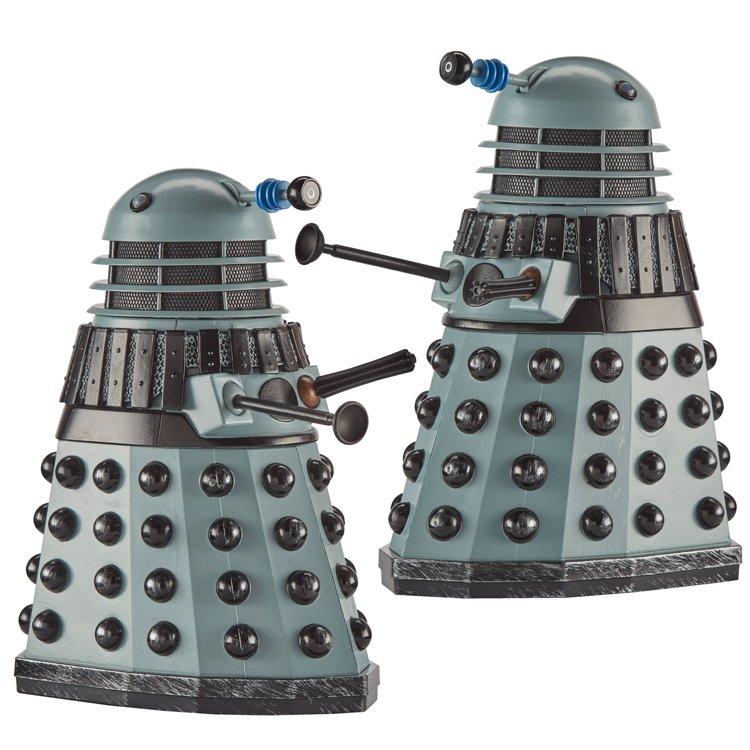 Of the props assembled, the lead Dalek was the only one to retain its dark grey 'Genesis' style finish, whereas the others were painted a battleship blue along with mismatched parts picked out in gloss black and silver, although all the Daleks were given new eyestalks.
Add to this, by now very 'worn' appearance, the props arguably look like the remnants of a Dalek army very much on the back foot in an intergalactic war!
---
A VERY rough mock-up of the differences between the 2 Daleks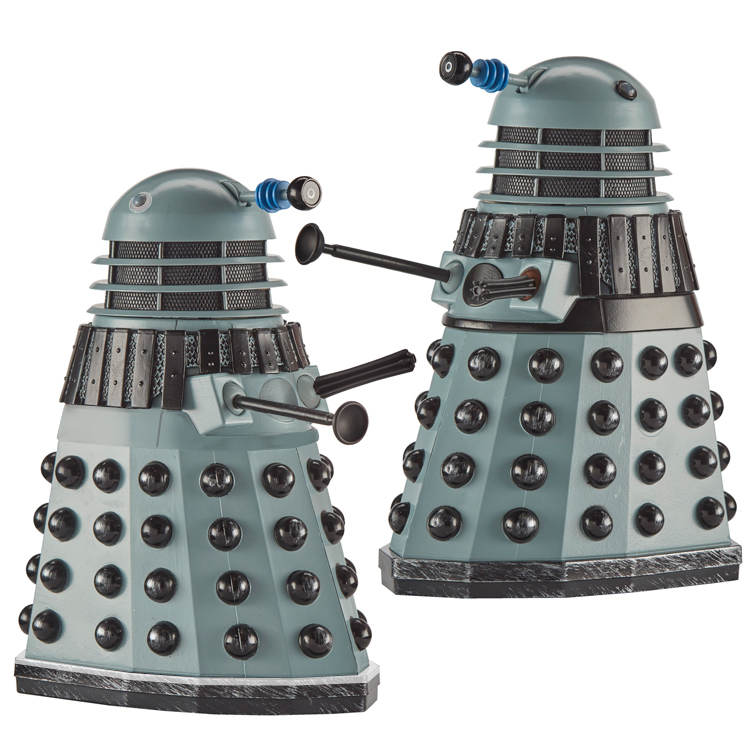 ---
---
Speaking of this wave of releases Al Dewar, Creative Director at Character Options, said: "This range has some real gems in it, including some not so easy to spot ones. The three figure sets are very cool and there's at least one standout figure in each set, including a new Ninth Doctor with new components and an updated Rose V1. We also have a brand-new Angel variant as well as a physically new version of Yaz. Collectors will delight in looking for both variants of the Angel figure.

"With the Dalek sets – this time we have two absolute standout pieces with 'Genesis of the Daleks' and my personal favourite Dalek story 'Destiny of the Daleks'. For me it has everything and I love the look of the battered war worn Daleks. Following that and much to my own delight, is a new First Doctor figure in the form of David Bradley's Doctor paired with a very unique looking TARDIS based more on the TARDIS look in the BBC 2013 anniversary drama story which covered the creation of the TV series.
"Lastly to go hand in hand with the Dalek sets is a great special release featuring Davros and a very special Dalek … all I can say is fans will not want to miss out on that one!"