Doctor Who and the War Games CD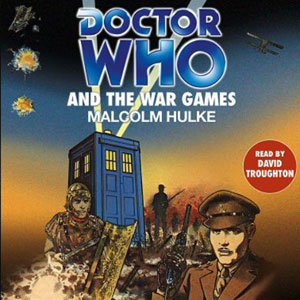 Doctor Who and the War Games CD
Read by David Troughton
In this exciting reading of a Doctor Who novelisation, first published by Target Books in 1979, the Doctor and his companions are faced by an evil of such magnitude they are forced to turn to the only people that can help them – the Time Lords.
Synopsis from the DVD release…
The TARDIS arrives on a planet where a race known only as the Aliens have gathered soldiers from a number of different wars in Earth's history, brainwashed them and put them to battle. Their aim is to form an invincible army from the survivors and use this to take over the galaxy.
The War Lord is assisted by a Security Chief and a War Chief, the latter of whom the Doctor quickly recognises as a member of his own race, the Time Lords. The War Chief has provided the Aliens with the time vessels, SIDRATs, that are essential to their scheme; but he secretly plans to double-cross them and seize power for himself.
Due for release on 03 February 2011
a promo for audiobooks from meonmedia on Vimeo.