Doctor Who Adventures issue 342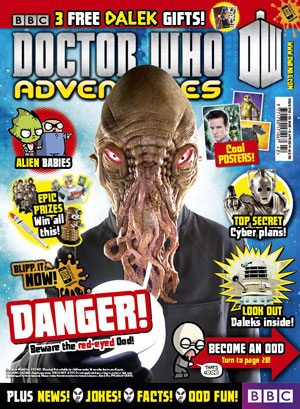 Doctor Who Adventures magazine Issue 342
VOTE FOR YOUR FAVOURITE MATT SMITH EPISODE IN BBC DOCTOR WHO ADVENTURES MAGAZINE
BBC Doctor Who Adventures magazine wants readers to vote for their ultimate Eleventh Doctor story in the current issue of the magazine for young Doctor Who fans.
Actor Matt Smith appeared in 44 exciting stories as the Doctor – but which one will receive the honour of being known as the Doctor Who Adventures reader favourite?
In this issue, also check out the following:
· Loads of Ood facts and how to make an Ood mask.
· Sontaran Strax with his guide to the Doctor.
· Facts about a Dalek invasion on television in 1964.
· Win a huge bag of Doctor Who goodies – including sonic screwdrivers and mini-figures.
· Cyberman secrets from Nightmare in Silver.
· An exciting comic strip featuring an unseen adventure with the Eleventh Doctor and Clara – and use the free app Blippar to bring the comic strip to life!
All this, plus posters, puzzles and loads of monster fun…
Issue 342, on sale 26 March – 8 April, priced £2.99. The issue comes with three free Dalek gifts. Don't miss it!
You can subscribe to Doctor Who Adventures at www.uniquemagazines.co.uk. Worldwide shipping is available.