Doctor Who Adventures Issue 350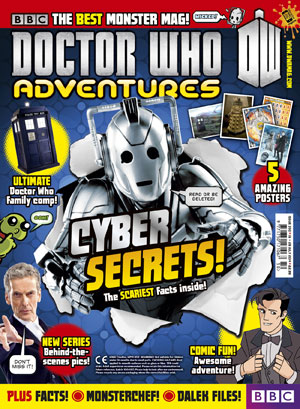 Doctor Who Adventures Issue 350
Is your family the Ultimate Doctor Who family?
BBC Doctor Who Adventures magazine is looking for the ultimate Doctor Who family in the UK.
There will be Doctor Who goodie bags stuffed with prizes for the overall winner and three runner-up families – and readers can enter, no matter how big or small their family is, for a chance to win.
Doctor Who Adventures Editor Moray Laing says: "The search is on!
Does your family live and breathe Doctor Who? Do you own the biggest Doctor Who collection? Perhaps you all like to dress up as the Doctor, monsters or companions and watch the episodes? We want to know so that we can find the ultimate family!"
Make sure you get the latest issue for more details. Plus:
· Alien Babies comic fun.
· The latest news.
· Use the free app Blippar to upgrade yourself into a Cyberman or take the TARDIS on a special journey into time and space!
· Our MonsterChef makes terrors on toast.
· Davros facts!
· A guide to the Weeping Angels.
· Photo special about the new series.
· Adventures for the Doctor and Clara in the comic strip – written by Richard Cookson, who recently worked on Doctor Who as script editor
· Five Fantastic posters!
Issue 350, on sale 16- 29 July 2014, priced £2.99. The magazine comes with free racing Cybermen! Don't miss it!