Doctor Who Adventures issue 349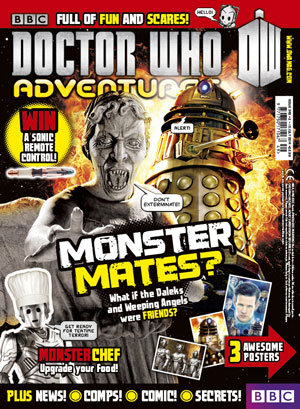 Doctor Who Adventures issue 349
WIN A SONIC SCREWDRIVER REMOTE CONTROL WITH DOCTOR WHO ADVENTURES MAGAZINE
Get creative with the latest issue of BBC Doctor Who Adventures magazine and you could win a Sonic Screwdriver Universal Remote Control. This doesn't mean you can control the universe with it, but it will control electronic devices such as a TV or Blu-ray player.
The magazine would like readers to tell them what they would do if they had their own sonic – and the top three answers will win a Universal Remote Control of their very own.
ALSO, this issue sees the start of an exciting new-feature – MONSTERCHEF! Discover how to turn a pizza into a brilliant monster meal…
Grab the latest issue for more details! Plus:
· A guide to the Eleventh Doctor's episodes.
· What would happen if the Weeping Angels teamed up with the Daleks?
· What do we knew about the new series so far? Check out the latest photos!
· Dalek secrets!
· How would you battle aliens?
· Strax's Guide to Zygons.
· Adventures for the Doctor and Clara in the comic strip – written by former Doctor Who script editor Andrew Cartmel.
· Fantastic posters!
· Win a loads of goodies.
· Plus puzzles and loads of the usual monster fun…
Issue 349, on sale 2- 15 July 2014, priced £2.99. The magazine comes with free monster armies – 12 aliens to battle with!