Doctor Who Adventures issue 346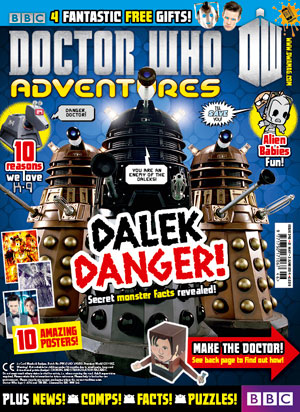 Doctor Who Adventures issue 345
The latest issue of BBC Doctor Who Adventures magazine is out on 21 May and includes more posters than ever before.
Inside you'll find 10 stunning posters featuring all the best monsters in Doctor Who… and if you've got a smartphone, you can bring three of them to life with the free app Blippar.
Dalek fans should be aware that the issue also sees the start of a new series of cut-out-and-keep features called The Dalek Files.
In the first one you can discover the secrets of The Cult of Skaro.
The issue comes with four fantastic free gifts – a Cyberman and Doctor mask, and two badges.
Also, there's:
· Fun with the Alien Babies!
· The latest pictures from the filming of the new series.
· Strax's guide to the Silurians.
· Win a BMX bike!
· Who are the nastiest nibblers in Doctor Who? Find out in our fang-tastic fang fact file.
· 10 reasons we love K-9.
· More trouble for the Eleventh Doctor and Clara in the comic strip.
· Plus puzzles and loads of monster fun…
Issue 346, on sale 21 May – 3 June 2014, priced £2.99. Grab yours today!
You can subscribe to Doctor Who Adventures at www.uniquemagazines.co.uk. Worldwide shipping is available.