Doctor Who Adventures issue 296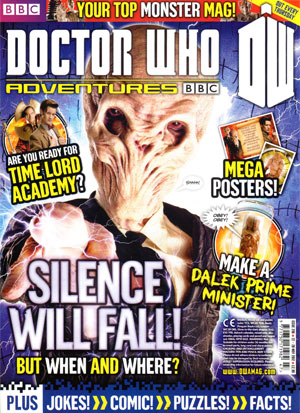 Doctor Who Adventures issue 296
Hello time travellers!
I'm full of birthday cake this week.
It's more filling than soufflé, tastier than cabbage and you get to blow out the candles.
There mere so many candles, I set the Fire alarms off in the TARDIS.
When is your birthday? I bet you've got one ion the next year!

Also inside…
Geronimo
Time lord academy
Time lord training
Silence will fall
Dalek Prime Minister
Birthday quiz
Monster pets
The Toybox (comic)
Falling Angels and more…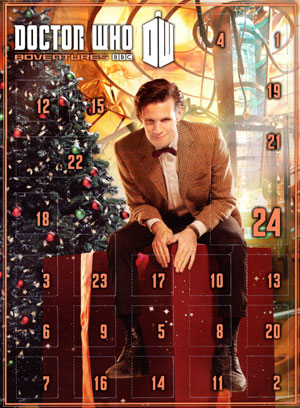 This weeks issue comes with an advent calendar and surprise gifts.
Doctor Who Adventures is a weekly magazine for people who love Doctor Who.
The magazine immerses readers into the world of the Doctor and his friends, taking them on an adventure into time and space every week!
It is packed full of monster and creature fact files, brilliant posters, behind-the-scenes secrets, competitions, comic strip action and puzzles.
There's always loads of excitement, action, adventure and fun! Doctor Who Adventures is a must-have for young fans of the successful BBC series!
If you are interested in subscribing, or to see various offers on the Magazine go to the BBC Doctor Who Adventures page Here. You will never miss an issue and its delivered straight to you.
Next weeks issue comes with a paint your own Tardis…