Doctor Who Adventures issue 294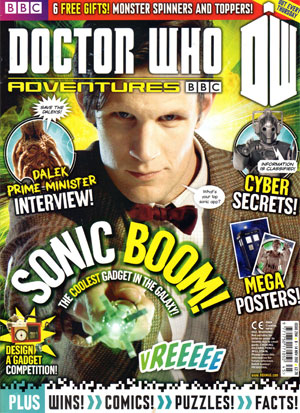 Doctor Who Adventures issue 294
It's time to get sonic with Doctor Who Adventures!
This week's Doctor Who Adventures is packed with everything a top Who fan needs to know and wants to see!
Learn all about the sonic screwdriver and everything it can do, check out our super-huge wordsearch, laugh at our brilliant monster texts and tackle our totally tricky puzzles!
If that wasn't enough we've asked the Dalek Prime Minister YOUR questions and we've got an amazing competition for you to design your own gadget for the Doctor.
The winning design will feature in our awesome comic strip and will be made into a model and displayed at the Doctor Who Experience in Cardiff!
Doctor Who Adventures issue 294 is in the shops from 8 November.
If you are interested in subscribing, or to see various offers on the Magazine go to the BBC Doctor Who Adventures page Here. You will never miss an issue and its delivered straight to you.