Doctor Who Adventures issue 287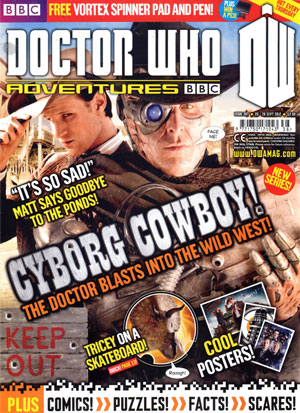 Doctor Who Adventures issue 287
Sorry! Slightly out of breath.I just nipped back to Henry VIII's en suite to try and retrieve Rory's phone charger (honestly, those Ponds!) when Anne Boleyn challenged me to a game of darts.
You know me, never one to turn down a challenge! Fast forward two hours and 17 guards mere chasing me around the Hampton Court maze. Thank Boe I parked the TARDIS in the centre. Which reminds me, I must get a hedge setting for the sonic. And a chocolate lemonade setting. And a knitting setting!

Also inside…
*Secret preview!
*Cowboy quiz!
*Monster texts!
*Matt interview!
*Adventure guide!
*Comic action!
*Behind the scene
*Puzzle party!
If you are interested in subscribing, or to see various offers on the Magazine go to the BBC Doctor Who Adventures page Here. You will never miss an issue and its delivered straight to you.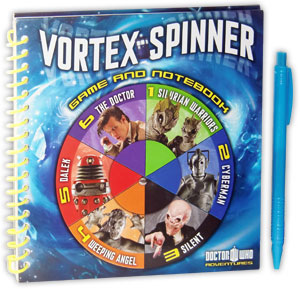 This weeks issue, priced £2.60 comes with a vortex spinner notebook and pen.
Doctor Who Adventures is a weekly magazine for young boys and girls who love Doctor Who.
The magazine immerses readers into the world of the Doctor and his friends, taking them on an adventure into time and space every week!
It is packed full of monster and creature fact files, brilliant posters, behind-the-scenes secrets, competitions, comic strip action and puzzles. There's always loads of excitement, action, adventure and fun! Doctor Who Adventures is a must-have for young fans of the successful BBC series!
Next weeks issue comes with a massive Tardis wipeboard abd deadly 60 cards…