Doctor Who Adventures issue 285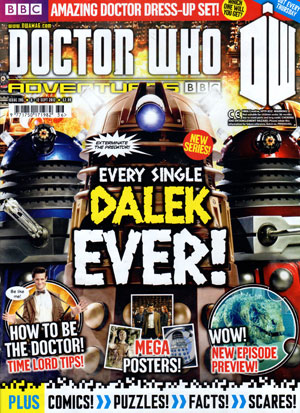 Doctor Who Adventures issue 285
Daleks right?
Everyone's talking about Daleks. How many there were. How many there are. How insane they can be.
But do you know what? There is something else going on in the universe. I have a brand-new bow tie. Okay, so it's the same shape, size and colour as my old one – but that's not the point. It looks lovely, I know. Thanks for noticing.
Anyway, where were me? Oh, yes – there are lots of Daleks around at the moment!

Also inside…
*Crazy Christmas
*Dinosaurs on a Spaceship
*Massive Dalek quiz
*How to be The Doctors
*Story Quide
*The planet that slept (comic)
*Web design and more
Doctor Who Adventures is a weekly magazine for young boys and girls who love Doctor Who.
The magazine immerses readers into the world of the Doctor and his friends, taking them on an adventure into time and space every week!
It is packed full of monster and creature fact files, brilliant posters, behind-the-scenes secrets, competitions, comic strip action and puzzles.
There's always loads of excitement, action, adventure and fun! Doctor Who Adventures is a must-have for young fans of the successful BBC series!
This magazine is written for and aimed at children in the 6-12 years old age range. It is specifically targeted at a core age group of 7-8 year olds. If you are interested in subscribing, or to see various offers on the Magazine go to the BBC Doctor Who Adventures page Here. You will never miss an issue and its delivered straight to you.
This weeks issue, priced £2.99, comes with a Doctor Who dress up set…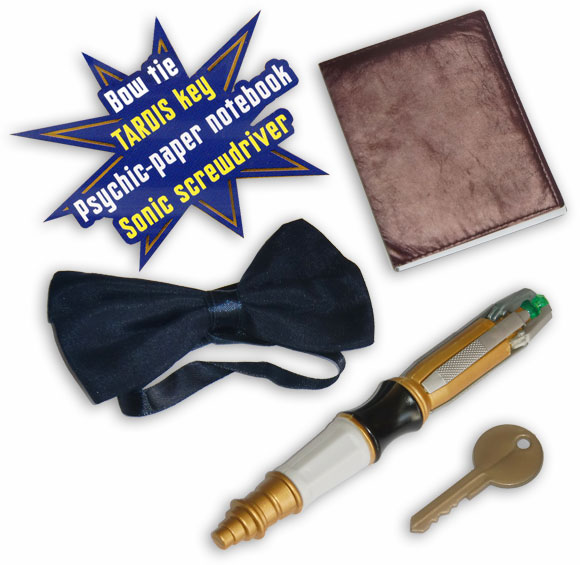 Next weeks issue comes with a make your own Tardis