Doctor Who Adventures issue 277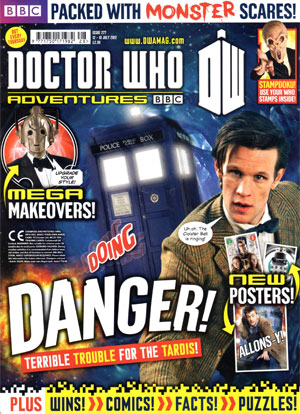 Doctor Who Adventures issue 277
You'll never guess what happened to me this week. Or maybe you will? Either way, I'm going to tell you.
The TARDIS got a parking ticket! Poor old girl. I went to the Shadow Proclamation to get it sorted.
They love doing paperwork and stamping Forms so I gave them my brilliant stampers. They had so much fun putting little Peg-Dolls, Ood and Silurians everywhere, that they let me off without a fine!
Phew to that!

Also inside…
*Monster Champs
*Web Wonder
*Summer Holiday
*Stampdoku
*Alarm bells
*The Cliff Face (comic)
*First day
*Ultimate Dalek collection and more…
This weeks issue, priced £2.99, comes with stampers, make your own weeping Angel, note pad and Monster invasion cards.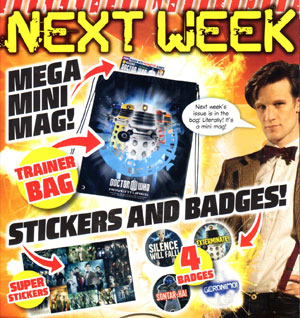 Doctor Who Adventures is a weekly magazine for young boys and girls who love Doctor Who.
The magazine immerses readers into the world of the Doctor and his friends, taking them on an adventure into time and space every week!
It is packed full of monster and creature fact files, brilliant posters, behind-the-scenes secrets, competitions, comic strip action and puzzles.
There's always loads of excitement, action, adventure and fun!
Doctor Who Adventures is a must-have for young fans of the successful BBC series!
This magazine is written for and aimed at children in the 6-12 years old age range. It is specifically targeted at a core age group of 7-8 year olds.
If you are interested in subscribing, or to see various offers on the Magazine go to the BBC Doctor Who Adventures page Here. You will never miss an issue and its delivered straight to you.
Next weeks "Mini Mag" issue comes with trainer bag, stickers and badges.