Doctor Who Adventures issue 275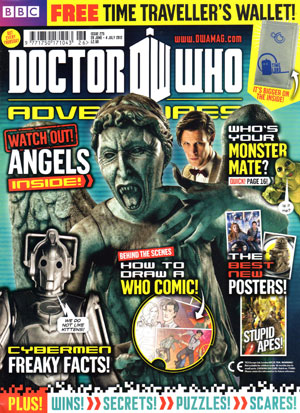 Doctor Who Adventures issue 275
I'm in America! It's summer 1776 and I've just lent a nice man called Thomas Jefferson my pen.
Tom and his mates are all celebrating something, and we're about to have a big party with fireworks and cake.
I think it must be someone's birthday. I wonder if it's Tom's? Hang on, I'll ask…
No, it's America's birthday. She'll be 236 on 4 July. That's a lot of candles! We'll need an enormous cake! Yum.

Also inside…
*Dalek Warning
*Eleven to one
*Very cross word
*So scary
*Companions
*Cyber fast facts
*the sky is falling (comic)
*Comic creation and much more…
This weeks issue, priced £2.60, comes with a free time travellers wallet to keep your money safe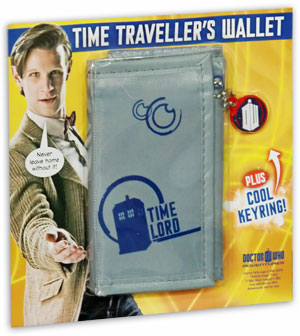 Doctor Who Adventures is a weekly magazine for young boys and girls who love Doctor Who.
The magazine immerses readers into the world of the Doctor and his friends, taking them on an adventure into time and space every week!
It is packed full of monster and creature fact files, brilliant posters, behind-the-scenes secrets, competitions, comic strip action and puzzles.
There's always loads of excitement, action, adventure and fun!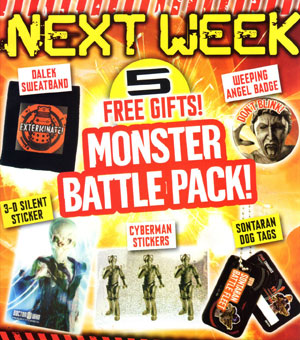 Doctor Who Adventures is a must-have for young fans of the successful BBC series!
This magazine is written for and aimed at children in the 6-12 years old age range. It is specifically targeted at a core age group of 7-8 year olds.
If you are interested in subscribing, or to see various offers on the Magazine go to the BBC Doctor Who Adventures page Here. You will never miss an issue and its delivered straight to you.
Next weeks issue comes with 5 monster gifts including stickers, tags and badges.