Doctor Who Adventures issue 274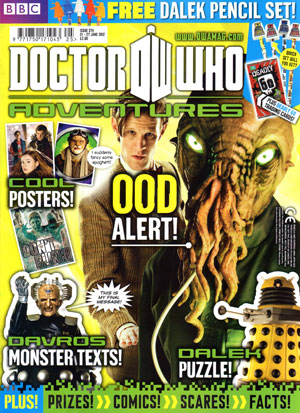 Doctor Who Adventures issue 274
I'VE spent this week chatting to an underwater town of octopuses.
Well I say 'chatting'. I guess it was really 'escaping from'. Octopuses are fascinating and clever.
They have three hearts, blue blood and can regrow lost tentacles – sort of like regeneration. I thought they might be related to Time Lords.
They're not. At least, the ones on the sea planet of Flamph say they're not. But they did think I looked tasty. Yikes!

Also inside…
*Under wraps
*The good Ood guide
*Find the Tardis
*Doctor Wear
*Companions
*Creature feature
*Le Tour De Death (comic)
*Monster texts and much more…
This weeks issue, priced £2.60, comes with Dalek toppers and Deadly 60 cards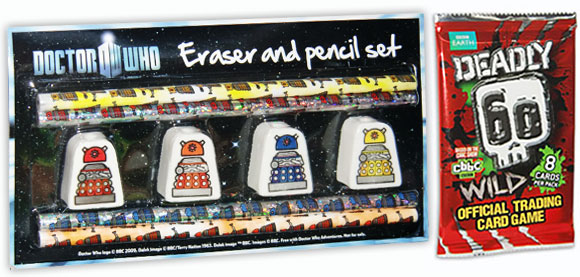 Doctor Who Adventures is a weekly magazine for young boys and girls who love Doctor Who.
The magazine immerses readers into the world of the Doctor and his friends, taking them on an adventure into time and space every week!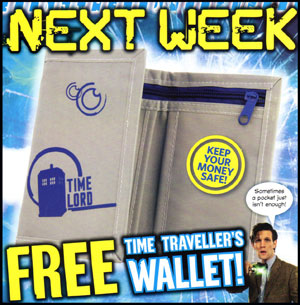 It is packed full of monster and creature fact files, brilliant posters, behind-the-scenes secrets, competitions, comic strip action and puzzles.
There's always loads of excitement, action, adventure and fun!
Doctor Who Adventures is a must-have for young fans of the successful BBC series!
This magazine is written for and aimed at children in the 6-12 years old age range. It is specifically targeted at a core age group of 7-8 year olds.
Next weeks issue comes with a free time travellers wallet to keep your money safe