Doctor Who Adventures issue 273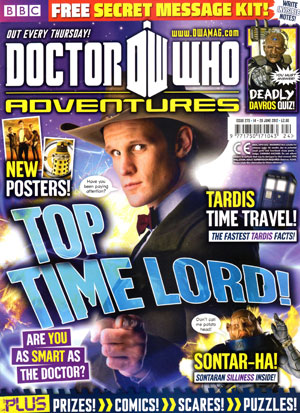 Doctor Who Adventures issue 273
How are you? Super-well!
That's brilliant because There's no time for sniffles or alien bogies – we've got adventures to plan! Right bring your invisible ink pen and your pad and your badge and your stickers – we have to spy on a city of aliens that look a lot like angry mushrooms.
I Forgot to say, we'll have to dress up like mushrooms, perhaps for a few months.
I told you that I was a fun guy. Fungi. Geddit? Oh, sorry.

Also inside…
*By-Bye Ponds
*Davros
*All seeing Doctor
*Jokes!
*The Tardis fast facts
*Clone wars
*I Scream (comic)
*Coming soon and much more…
This weeks issue, priced £2.60, comes with a free secret message kit with River's diary notebook, cool badge, invisible ink revealer, invisible pen and super stickers.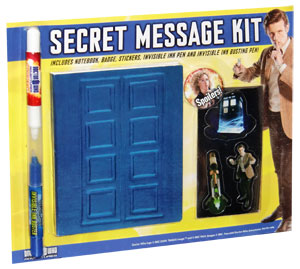 Doctor Who Adventures is a weekly magazine for young boys and girls who love Doctor Who.
The magazine immerses readers into the world of the Doctor and his friends, taking them on an adventure into time and space every week!
It is packed full of monster and creature fact files, brilliant posters, behind-the-scenes secrets, competitions, comic strip action and puzzles.
There's always loads of excitement, action, adventure and fun! Doctor Who Adventures is a must-have for young fans of the successful BBC series!
This magazine is written for and aimed at children in the 6-12 years old age range.
It is specifically targeted at a core age group of 7-8 year olds.
Next weeks issue comes with Dalek toppers and deadly 60 cards