Doctor Who Adventures issue 272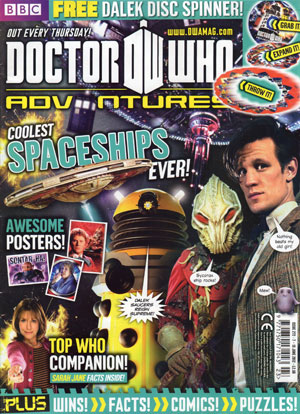 Doctor Who Adventures issue 272
Have you ever been to a galaxy That is made out of blackcurrants? No, nor have I – but that's exactly where I plan on going later. I'm taking the Ponds on a surprise outing. The Fact we're going somewhere for a tasty picnic will be a nice surprise.
The fact it's a galaxy made out of blackcurrants will be an even nicer surprise! The fact that they'll get a bright purple suntan is quite a distressing surprise – but they'll get used to it after the First couple of years. We'll take our expandable Dalek disc. Yay!

Also inside…
*Doctor denied
*Space traffic
*Invent your own spaceship
*The madman in a hat
*Creature feature
*Doctor Who secrets
*Ghosy train (comic)
*More sonics and much more…
This weeks issuecomes with an expandable Dalek Disc.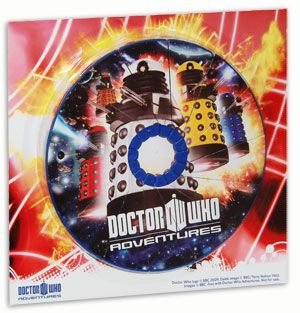 Doctor Who Adventures is a weekly magazine for young boys and girls who love Doctor Who.
The magazine immerses readers into the world of the Doctor and his friends, taking them on an adventure into time and space every week!
It is packed full of monster and creature fact files, brilliant posters, behind-the-scenes secrets, competitions, comic strip action and puzzles.
There's always loads of excitement, action, adventure and fun!
Doctor Who Adventures is a must-have for young fans of the successful BBC series!
This magazine is written for and aimed at children in the 6-12 years old age range.
It is specifically targeted at a core age group of 7-8 year olds.
Next weeks issue comes with a free secret message kit with River's diary notebook, cool badge, invisible ink revealer, invisible pen and super stickers.