Doctor Who Adventures issue 271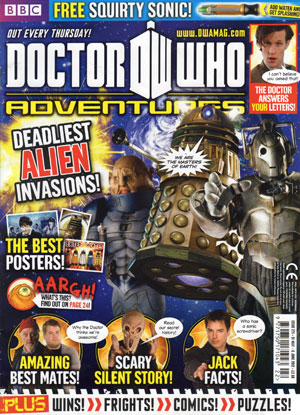 Doctor Who Adventures issue 271
Nice to see you again. Have you redecorated? I don't like it.
Anyway, I was busy working on a variation of my now Famous Drunk Giraffe dance when I accidentally knocked a lever on the TARDIS console that I didn't know existed.
It then created over 47 identical versions of me and landed on a planet and ran out to get some assistance.
They thought it was an alien invasion and tried to blow me up. How we laughed!

Also inside…
*Dalek horoscopes
*Alien Invasions
*Monster texts
*The companions who weren't
*Silent nights
*Insane Invasions
*The Mirror War (comic)
*The greatest gizmos and much more…
This weeks issue comes with a water squirter Sonic Screwdriver.
Doctor Who Adventures is a weekly magazine for young boys and girls who love Doctor Who.
The magazine immerses readers into the world of the Doctor and his friends, taking them on an adventure into time and space every week!
It is packed full of monster and creature fact files, brilliant posters, behind-the-scenes secrets, competitions, comic strip action and puzzles.
There's always loads of excitement, action, adventure and fun!
Doctor Who Adventures is a must-have for young fans of the successful BBC series!
This magazine is written for and aimed at children in the 6-12 years old age range.
It is specifically targeted at a core age group of 7-8 year olds.
Next weeks issue comes with an expandable Dalek Disc.