Doctor Who Adventures issue 269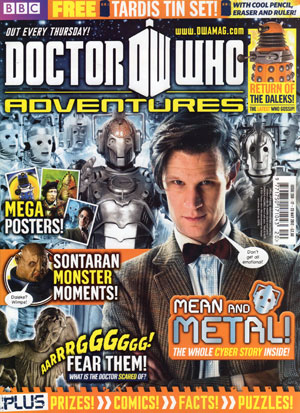 Doctor Who Adventures issue 269
Right, I don't want anyone to panic.
That's The important thing to remember-no panicking.
It's just that a number of giant robot gorillas have been spotted heading for Earth.
If you can, lure them into a trap and give me a call.
I'll come armed with a huge metal banana and a net.
Just don't panic!

Also inside…
*Tardis for sale
*Series 7 snippets
*My amazing Cyber life
*Creature feature
*Fear Them
*The Doctor's Companions
*Dummy run (comic)
*Cybermat and much more…
This weeks issue Comes with a Tardis Stationary Set with Tardis Tin, Ruler, Eraser and Pencil.
Doctor Who Adventures is a weekly magazine for young boys and girls who love Doctor Who.
The magazine immerses readers into the world of the Doctor and his friends, taking them on an adventure into time and space every week!
It is packed full of monster and creature fact files, brilliant posters, behind-the-scenes secrets, competitions, comic strip action and puzzles.
There's always loads of excitement, action, adventure and fun!
Doctor Who Adventures is a must-have for young fans of the successful BBC series!
This magazine is written for and aimed at children in the 6-12 years old age range.
It is specifically targeted at a core age group of 7-8 year olds.
Next weeks issue comes with a Dalek Money Box