Doctor Who Adventures issue 267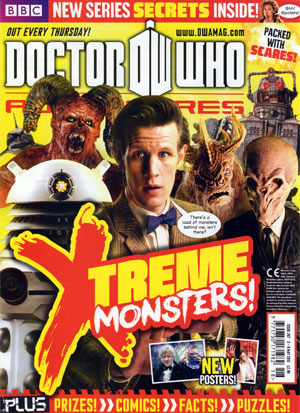 Doctor Who Adventures issue 267
I had a big adventure the other day.
I spent ages looking For a lost sock and then it turned up in the washing machine, of all places!
Just kidding!
But I did visit a galaxy shaped like a washing machine that had been invaded by killer socks.
Not only did they have big, razor-sharp teeth, but they smelled a bit, too!

Also inside…
*New York, New York
*XTreme Monsters
*The Grontlesnurt Horror
*Amy Pond facts
*Freaky first encounters
*Island of the cyclopes (comic)
*regeneration
*Designing the details and much more
This weeks issue comes with a surprise mini monster Army, Mosh monster stickers and a bumper sticker sheet.
Doctor Who Adventures is a weekly magazine for young boys and girls who love Doctor Who.
The magazine immerses readers into the world of the Doctor and his friends, taking them on an adventure into time and space every week!
It is packed full of monster and creature fact files, brilliant posters, behind-the-scenes secrets, competitions, comic strip action and puzzles.
There's always loads of excitement, action, adventure and fun!
Doctor Who Adventures is a must-have for young fans of the successful BBC series!
This magazine is written for and aimed at children in the 6-12 years old age range.
It is specifically targeted at a core age group of 7-8 year olds.
Next weeks issue comes with a Doctor Who Book and more Moshi stickers