Doctor Who Adventures issue 265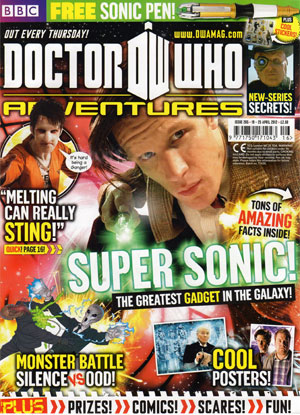 Doctor Who Adventures issue 265
Monday 23 April is my mate and cool writer William Shakespeare's 448th birthday!
Oh, I remember being 448.
Went for a stroll on the Moon – well, it mas more of a bounce because of the low gravity.
Then I bumped into the Cybermen, who hadn't got me a present.
Anyway, happy birthday.

Also inside…
*Secrets of the Doctor's sonic!
*Check out the Series 7 trailer!
*Matt's guide to The God Complex!
*Doomland (comic)
*The Ninth Doctor regenerates! and much more…
This weeks issue comes with a sonic screwdriver pen and stickers.

Doctor Who Adventures is a weekly magazine for young boys and girls who love Doctor Who.
The magazine immerses readers into the world of the Doctor and his friends, taking them on an adventure into time and space every week!
It is packed full of monster and creature fact files, brilliant posters, behind-the-scenes secrets, competitions, comic strip action and puzzles.
There's always loads of excitement, action, adventure and fun!
Doctor Who Adventures is a must-have for young fans of the successful BBC series!
This magazine is written for and aimed at children in the 6-12 years old age range.
It is specifically targeted at a core age group of 7-8 year olds.
Next weeks issue comes with an Angel attack set!