Doctor Who Adventures issue 262
Doctor Who Adventures issue 262
Ha ha! I love April Fool's Day.
I say I married a Sontaran war Lord and you have to believe me, then we eat a cake.
Is that what happens?
It's what should happen.
All right, I've never really married a Sontaran. Got engaged to a Cyberman once, though.
Ha ha! No I didn't!
April Fool! Got you!

Also inside…
*Toby's teaser
*Top of the swaps
*Daleks – The complete history
*Who – Doko
*The time vortex
*But But Baby (comic)
*Regeneration
*Live chess comes to life and much more…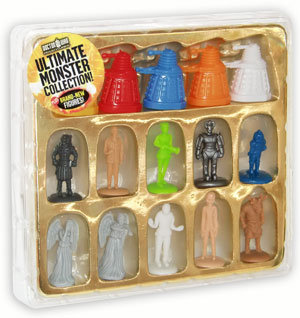 This weeks issue comes with an ultimate monster collection with brand new figures…
Doctor Who Adventures is a weekly magazine for young boys and girls who love Doctor Who.
The magazine immerses readers into the world of the Doctor and his friends, taking them on an adventure into time and space every week!
It is packed full of monster and creature fact files, brilliant posters, behind-the-scenes secrets, competitions, comic strip action and puzzles.
There's always loads of excitement, action, adventure and fun! Doctor Who Adventures is a must-have for young fans of the successful BBC series!
This magazine is written for and aimed at children in the 6-12 years old age range.
It is specifically targeted at a core age group of 7-8 year olds.
Next weeks issue comes with stationary set including Ruler,notepad and more…