Doctor Who Adventures issue 261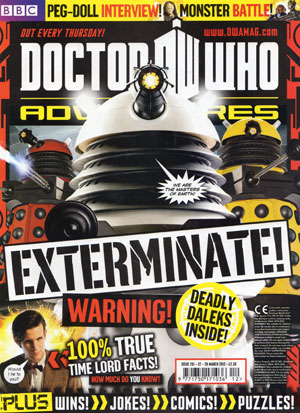 Doctor Who Adventures issue 261
Can't stop! Being chased!
By things that look a bit like lobsters, only each one's the size of a house.
They're not really lobsters, they're Snee. 'Hello" said to them, all nicely.
But of course in Snee, 'Hello' means something quite rude.
So, you keep reading, I'll keep running.
Deal? Waaah!

Also inside…
*Tick tock goes the clock
*Disaster plans
*Crystal Brawl!
*The Doctors fast facts
*Play with us – Forever!
*The punch and Judy trap (comic)
*Clock work and much more…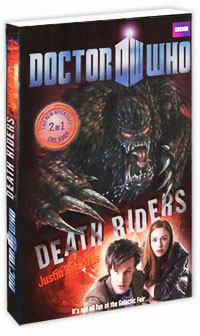 This weeks issue comes with a free mystery mask, foil poster and surprise gift. (in our case a smiler mask and Death Riders Book)
Doctor Who Adventures is a weekly magazine for young boys and girls who love Doctor Who.
The magazine immerses readers into the world of the Doctor and his friends, taking them on an adventure into time and space every week!
It is packed full of monster and creature fact files, brilliant posters, behind-the-scenes secrets, competitions, comic strip action and puzzles.
There's always loads of excitement, action, adventure and fun! Doctor Who Adventures is a must-have for young fans of the successful BBC series!
This magazine is written for and aimed at children in the 6-12 years old age range.
It is specifically targeted at a core age group of 7-8 year olds.
Next weeks issue comes with an ultimate monster collection with brand new figures…