Doctor Who Adventures issue 254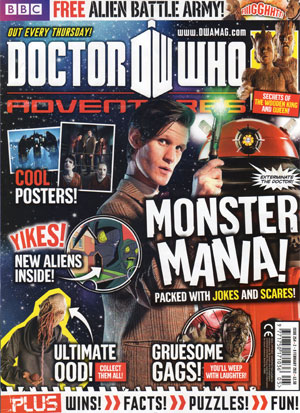 Doctor Who Adventures issue 254
I've just been to the Tea Farms in the clouds above Ripple.
Nice place, smells all leafy but it can also dye your hair green.
And your pants. Oops.
I think there's a mashing machine somewhere in the TARDIS.
Sure I saw it in one of the velodromes.
So, you enjoy this amazing mag and I'll get on with the laundry.

Also inside…
*Are your family aliens
*False facts
*Monster Jokes
*Tardis Scanner – The Judoon
*The home store (comic)
*Backstage secrets
*Two of a kind and much more…
These weeks issue comes with a Judoon and Ood mini army

Doctor Who Adventures is a weekly magazine for young boys and girls who love Doctor Who.
The magazine immerses readers into the world of the Doctor and his friends, taking them on an adventure into time and space every week! It is packed full of monster and creature fact files, brilliant posters, behind-the-scenes secrets, competitions, comic strip action and puzzles.
There's always loads of excitement, action, adventure and fun! Doctor Who Adventures is a must-have for young fans of the successful BBC series!
This magazine is written for and aimed at children in the 6-12 years old age range.
It is specifically targeted at a core age group of 7-8 year olds.

Next weeks issue comes with a Silence and Silurian mini army