Doctor Who Adventures issue 227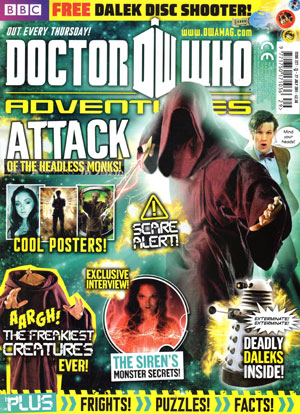 Doctor Who Adventures issue 227
If you're reading this, I'm going to assume you've still got your head -which is more than the poor old Headless Monks can say! Find out all about them this week.
You can also discover just what the Siren's got to say for herself. I mas amazed when I read that bit, as I didn't Find her all that chatty the First time we met!
And if all that isn't enough, there's… erm… loads more, too!
Aren't I good to you?



In this issue…
*War Search
*The Aaagh!prentice
*Monk-y Buisness
*Making The Flesh Bowl
*Missing in action
*River is Amy's daughter and much more
This weeks free gift is a Dalek Disc Shooter…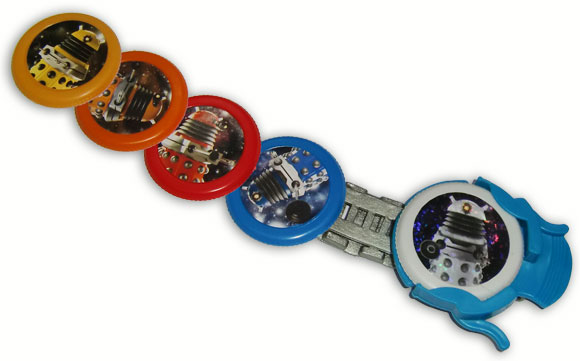 Doctor Who Adventures Monster Competition Winner
A 12 year-old girl from Suffolk has won a national competition to design a Doctor Who monster for Doctor Who Adventures magazine. Jessica Rickarby's design of a monster called 'Screamer' has been turned into a comic strip character for Doctor Who Adventures magazine. The 'Screamer' has just been put on display at the highly-praised 'Doctor Who Experience'
Don't forget to check out the Doctor Who Adventures website www.dwamag.com to keep up to date with the very latest news from the Time Lord.
See how Doctor Who Adventures is made
The Doctor Who Adventures gang will be at the Doctor Who Experience on Friday 5 August for some special sessions. Meet our comic artist John Ross and learn his many secrets, and find out how the magazine is put together. Interactive workshops will take place throughout the day giving you the chance to meet the editor, writers and illustrators and learn how to design your own magazine or comic.
There will be four sessions lasting one hour each, starting at 11.30am. 30 places are available at each session.
The hour will be split into two sessions
1 – Create your magazine (with the Doctor Who Adventures team)
2 – Comic masterclass (with John Ross, the Doctor Who Adventures comic artist)
The Doctor Who Experience is at Olympia Two (2nd Floor), Hammersmith Road, London W14 8UX. Maximum 30 places per workshop session – first come, first served. Places are for Doctor Who Experience ticket holders only, and all children must be accompanied by a ticket-holding parent/guardian.