Doctor Who Adventures issue 225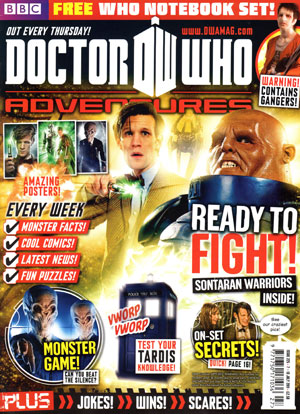 Doctor Who Adventures issue 225
Can you sit still For just a second? I need to do a quick scan of you – to make sure we got rid of all the Daleks that invaded the magazine last time!
Looks like you're OK, though – that's a relief!
Well, the good news is that I'm back in charge, so there's lots of great stuff to enjoy – including some pictures of the Ponds pulling very peculiar faces and a super space file on spectacular Saturn.
Have fun!

In this issue…
*See how we make your mag at The Doctor Who Experience offer
*Sontar-Ha
*The Tardis Quiz
*Monster memory game
*Time laughs
*The making of Demons run
*Grow your own and much more…
This week issue comes with a free notebook set.