Doctor Who Adventures issue 223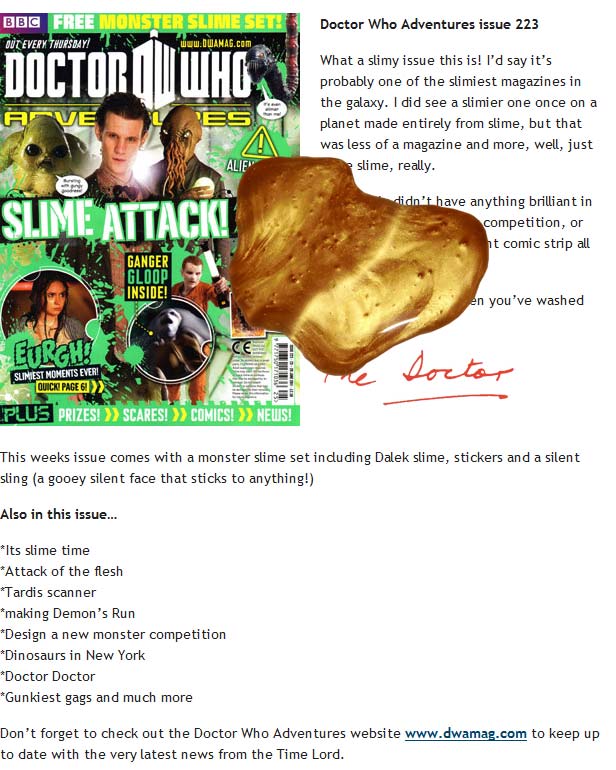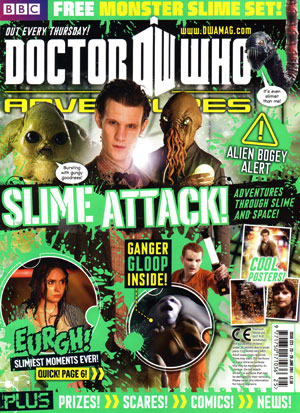 Doctor Who Adventures issue 223
What a slimy issue this is! I'd say it's probably one of the slimiest magazines in the galaxy. I did see a slimier one once on a planet made entirely from slime, but that was less of a magazine and more, well, just some slime, really.
It certainly didn't have anything brilliant in it like a design a monster competition, or an Ood scan, or an excellent comic strip all about me!
See you next meek, when you've washed your slimy hands!

This weeks issue comes with a monster slime set including Dalek slime, stickers and a silent sling (a gooey silent face that sticks to anything!)
Also in this issue…
*Its slime time
*Attack of the flesh
*Tardis scanner
*making Demon's Run
*Design a new monster competition
*Dinosaurs in New York
*Doctor Doctor
*Gunkiest gags and much more
Don't forget to check out the Doctor Who Adventures website www.dwamag.com to keep up to date with the very latest news from the Time Lord.