Doctor Who Adventures issue 222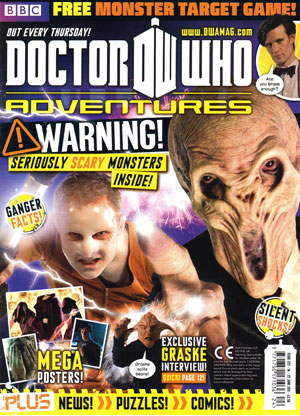 Doctor Who Adventures issue 222
Are you missing me yet? I'm missing all of you, but I'll still be here every week keeping you up-to-date with what's going on in the Universe.
In this issue, Find out how there ended up being two of me in our Ganger fact file. Two of me! What a brilliant idea.
Also, there's a rather important lesson in how to draw a Silent! That ought to come in very handy, as it's quite tricky to remember what they look like. Until next week.

Don't forget to check out the Doctor Who Adventures website www.dwamag.com to keep up to date with the very latest news from the Time Lord.
Also in this issue…
*A holiday for The Daleks
*Double trouble
*A Silent attacks
*Dalek Doku
*Make a ganger
*Danger flight
*The Almost quiz and much more
This weeks issue comes with a Monster target game…