Doctor Who Adventures issue 221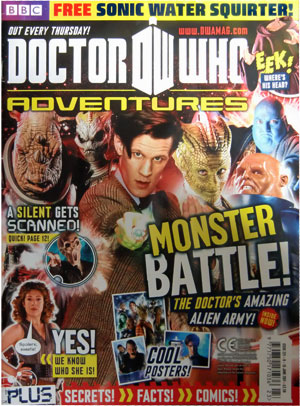 Doctor Who Adventures issue 221

There's been a war. A war against me. And its not over.
But we've given Madame Kovarian and her ugly friends one whopping boot up the backside, haven't we, readers?
And it turns out the River is Melody Pond! Surprised?
You bet i was! I'm really not sure what's going to happen next – ha, that's new! Remember time isn't in a straight line. It's all bumby – wumpy, but i will grab the Tardis and see you next week!

In this issue…
*Mega moments
*The Rebel quiz
*Tardis Scanner
*Into The Tardis
*House Hunt
*Doctor Doctor
*Ganger alert and much more
Don't forget to check out the Doctor Who Adventures website www.dwamag.com to keep up to date with the very latest news from the Time Lord.
This issue comes with a squirty screwdriver