Doctor Who Adventures issue 220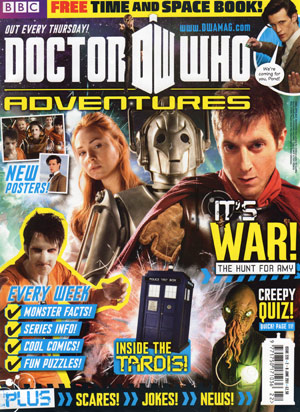 Doctor Who Adventures issue 220
It's a Funny thing, this magazine.
Think of the whole of time and space, printed on nice paper, folded in half, trimmed down to size and then stapled twice. Hell, it's nothing like that, but you can pretend it is if that helps.
This issue is all about secrets, Who's the eye-patch lady? What's happened to Amy? Will I find out who River really is? And who's this Joy everyone's going on about?
See you back here next time to compare notes!

In This Issue…
*Silence falls in London
*Who's behind the hatch
*Mega Moments
*The Timey Wimey quiz
*A good man goes to war
*Tardis Designs
*Road rage and much more
Don't forget to check out the Doctor Who Adventures website www.dwamag.com to keep up to date with the very latest news from the Time Lord.
This weeks issue comes with a Time and Space book…