Doctor Who Adventures issue 217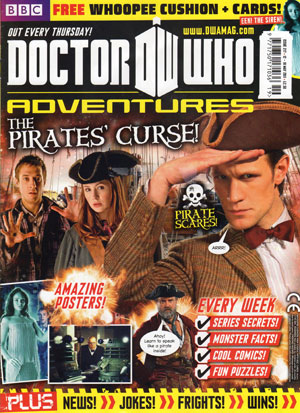 Doctor Who Adventures issue 217
Yo ho ho! Welcomes aboard, readers!
This week we've got a swashbuckling pirate queen, a scary Siren, a cursed ship and enough beardy pirates to shake a hook at!
Gosh, I love pirates. Except when they make me walk the plank… NOT so keen on that part.
They've got cool hats, Though, and I show you how to make your own on page 27. So come on, landlubbers – There's no Time To waist!

This weeks issue comes with a whoopee cushion and monster invasion cards.
Don't forget to check out the Doctor Who Adventures website www.dwamag.com to keep up to date with the very latest news from the Time Lord.