Doctor Who Adventures issue 215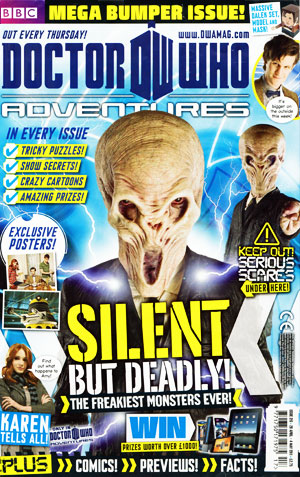 Doctor Who Adventures issue 215
Aha! Right! What you have in your hands is the latest cool issue of Doctor Who adventures.
There's loads about the ugly Silence, and don't forget to do the brilliant puzzles I came up with! There's comics. And competitions. And it's jam-packed with monster secrets.
Just one question – why is it always 'jam-packed', never 'peanut butter-packed'?
Don't forget to check out the Doctor Who Adventures website www.dwamag.com to keep up to date with the very latest news from the Time Lord.



This issue come with a deadly Dalek set with a yo-yo, Wallet, Dalek shape elastic bands a pen and stickers. It also comes with a rather horrible double sided Silent mask which will almost certainly have people screaming in the streets if you wear it!
Also inside…
*Could you write Doctor Who?
*That's Impossible
*Mega moments
*Tardis Journals
*Lost in space
*Silent and deadly
*Mega Who win
*Day of the moon and much more