Doctor Who Adventures issue 213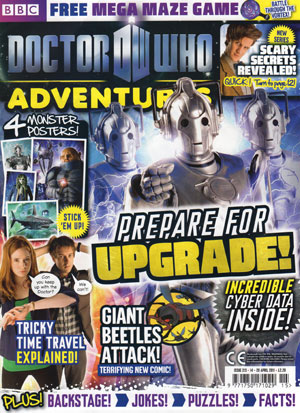 Doctor Who Adventures issue 213
We can't wait for the new episodes of Doctor Who to hit our screens, so this week we're looking at the truth behind the rumours of Series 6!
Plus, we've got another monster-tastic comic adventure and tons of cool puzzles for you!
Also inside…
*Episode prequels
*Draw your hat here!
*The truth behind the rumours
*The timey wimey travels of The Doctor
*Designing a starship
*close up confusion
*The Evergreen death and much more
This weeks addition comes with a mega maze game.
Don't forget to check out the Doctor Who Adventures new website www.dwamag.com to keep up to date with the very latest news from the Time Lord.

Next Week… Doctor Who Adventures is Regenerating!