Doctor Who Adventures issue 208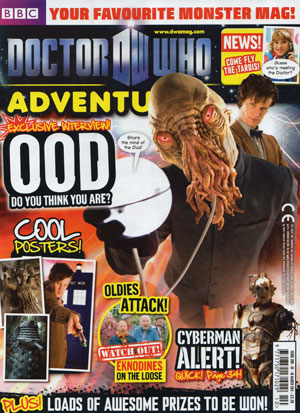 Doctor Who Adventures issue 208
Ever wonder what music the Ood listen to? Or if they like spaghetti and meatballs? Find out in our exclusive interview with Ood 7 Gamma 5!
We show you how to make some cool illusion spinners, Simon Cowell visits AAAGH and LOADS more!
Also in this issue…
*Come fly into space
*Spot the difference
*Doctor A-maze-ing
*Designing the Pandoria
*Oldies Attack
*Monster day out
*Mine all Mine! and much more.
This week magazine comes with 63 stickers and a Holo Horror
Don't forget to check out the Doctor Who Adventures new website www.dwamag.com to keep up to date with the very latest news from the Time Lord.
Bow ties are cool – Do Something Funny For Money www.rednoseday.com