Doctor Who Adventures Issue 197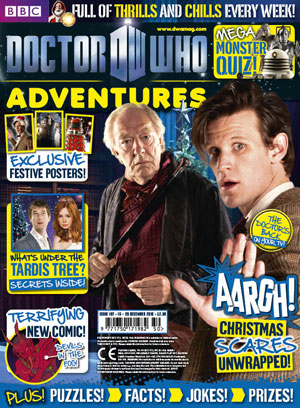 Doctor Who Adventures, Issue 197
It's Chriiiistmaaaas!
At last! Christmas is here and with it a brilliant new episode of Doctor Who.
We have loads of top secrets from A Christmas Carol, and chat exclusively to Matt Smith – 'I'm quite naughty,' he says!
We also find out what Matt, Karen Gillan and Arthur Darvill would get each other for Christmas.
Find out about the Doctor's previous Christmas adventures, try our fiendishly difficult monster quiz of 2010, plus there's puzzles, jokes and an especially festive comic strip – with a terrifying monster!
And then there's the 12 amazing gifts – an incredible 2011 Doctor Who calendar, stickers, bookmarks, gift tags, pop-up Christmas cards… and a very special extra surprise!
This is gonna be the best Christmas ever!
Doctor Who Adventures, issue 197, is out now (16 December