Doctor Who Adventures winner – Video
It's a screamer! Monster prize for Doctor Who Adventures competition winner
A 12 year-old girl from Suffolk has won a national competition to design a Doctor Who monster for Doctor Who Adventures magazine. Jessica Rickarby's design of a monster called 'Screamer' has been turned into a comic strip character for Doctor Who Adventures magazine and has been made into a 10 inch model, currently terrifying visitors to the Doctor Who Experience in Kensington Olympia. The competition received over 1,000 entries including from schools, one of which used the competition as part of their art class.
An expert panel of editorial staff judged the competition which asked readers to give the monster a name, a home planet, a weapon and special powers. The winning design was then turned into a comic strip by the Doctor Who Adventures team, which appeared in last week's issue..
This was then sent to a model maker, who created a model from the artwork. The 'Screamer' has just been put on display at the highly-praised 'Doctor Who Experience' at Kensington Olympia and will remain on show for approximately three months before being given to Jessica to keep. As part of their prize, Jessica also received a family ticket for four to visit the Experience and see the model on display.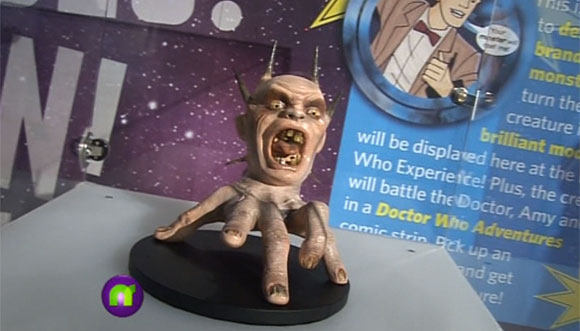 According to Natalie Barnes, editor of Doctor Who Adventures: "The popularity of our Design A Monster competition highlighted the amazing imagination of children in the UK – but as soon as we saw the Screamer we knew that Jessica's creation was the winner.
With the ability to render its victim unconscious by screaming in its face, the Screamer was so original and so scary, we had to ask the model-maker to make sure it wasn't too terrifying for adults!"