Doctor Who Adventures issue 189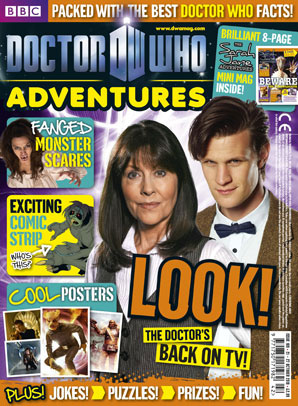 Doctor Who Adventures 189
This week's Doctor Who Adventures is a bumper Halloween special, packed full of scary treats!
You get an amazing new issue, a monster mask, freaky glow-in-the-dark vampire teeth and some cool face paints – perfect for transforming yourself into something scary!
Also, there's our latest Sarah Jane Adventures mini mag, with all you need to know about an episode featuring a very special guest star – The Doctor! Plus, we've got loads of facts, posters, puzzles and prizes.
Doctor Who Adventures, issue 189, is out now
Don't forget to check out the Doctor Who Adventures new website www.dwamag.com to keep up to date with the very latest news from the Time Lord.