Doctor Who Adventures 185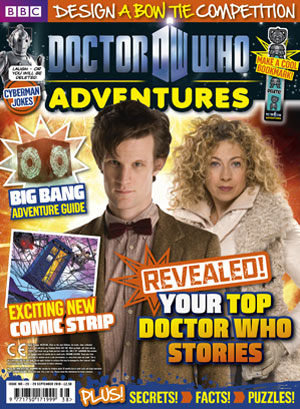 Doctor Who Adventures 185
This week's issue comes with a bumper pack of goodies! Not only will you get an amazing Doctor Who book, you'll also get a surprise extra gift!
Inside, we reveal your favourite story from Series 5 and the winner of the Golden Fez.
We challenge you to design a funky new bow tie for the Doctor that will appear in a future comic strip.
We get behind-the-scenes secrets from the Doctor Who stunt co-ordinator, Crispin Layfield. And we've some Cyberman silliness on our jokes page. The CyberKing has informed us that you will laugh or be deleted!
Doctor Who Adventures, issue 185, is out now.
Don't forget to check out the Doctor Who Adventures new website www.dwamag.com to keep up to date with the very latest news from the Time Lord.