Doctor Who Adventures 184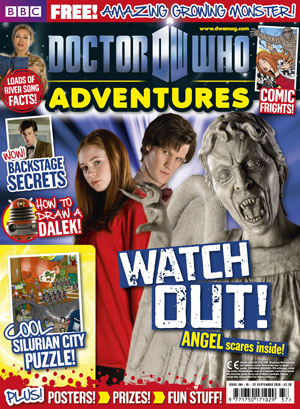 Doctor Who Adventures 184
This week's issue of Doctor Who Adventures comes with a free amazing growing monster! Just add water to grow your own Weeping Angel.
Ever wanted to learn how to draw one of the most powerful creatures in the universe? We show you how to draw a Dalek, the Doctor's oldest enemy.
Also this week, backstage secrets from the man who decorates the sets of Doctor Who and the story of River Song, the only person to know the Doctor's real name!
All this, plus: some great jokes, a comic strip and huge puzzles section, including a Weeping Angel word search.
Issue 184 of Doctor Who Adventures magazine is out on Thursday, price £2.20
Don't forget to check out the Doctor Who Adventures new website www.dwamag.com to keep up to date with the very latest news from the Time Lord.
The Angel, watch its progress on the blog soon…