Doctor Who Adventures 180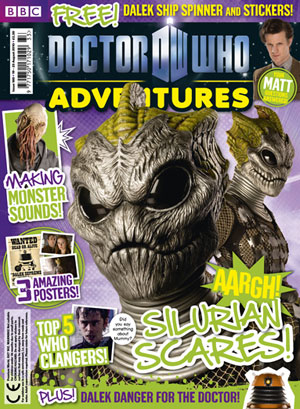 Doctor Who Adventures 180
You'll get a cool Dalek spinner and stickers with this week's Doctor Who Adventures!
And inside your issue, there's loads of need-to-know Dalek data…
Find out all the essential facts about Dalek ships – even how to test drive one!
Check out Matt Smith's answers to more of your brilliant questions (is he really a good dancer in real life?).
Plus, as well as the usual fantastic posters, you'll get a amazing Dalek 'Wanted' poster, find out how cool and creepy Doctor Who sounds are made in our backstage special (shh – there's lots of celery involved!), get your brain whirring with our huge cracked crossword, find out which scene won our 'funniest clangers' award and read a brand-new comic adventure starring the Doctor and Amy!
Wow – ALL THAT in one magazine – maybe Doctor Who Adventures uses Time Lord TARDIS technology!
Doctor Who Adventures, issue 180, is out now (19 August)!
Don't forget to check out the Doctor Who Adventures new website www.dwamag.com to keep up to date with the very latest news from the Time Lord.